Shopping Around for Physical Therapy Healthcare?
Dec 14, 2014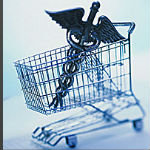 Shopping Around for Healthcare in the New Year?
Do all of the recent changes in healthcare policies and healthcare reform have you shopping around for providers that fit your new insurance plan and healthcare needs? Whether you are currently in good health, have a pre-existing condition, or plan to have a major change in your health status (such as a surgery or the birth of a child), it is important to shop around for your health providers for various reasons. Unfortunately, there are certain instances in the provision of healthcare where excess strain on the healthcare system has led providers and facilities to shorten treatment times and to utilize auxiliary providers to deliver services. An example of this shift in patient care has specifically occurred in the case of Physical Therapy treatment. Physical Therapy is traditionally considered a specialty service and requires a co-pay upon EACH visit in most cases of insurance. Therefore, you may want to ensure that your investment is meaningful. Here are a few things to consider when shopping around for your Physical Therapist:
Who is delivering your physical therapy care? Legally and professionally, the Physical Therapist must perform the initial evaluation of your first visit. What happens after your first visit? Will you be paired with the same provider or will you be supervised by a physical therapist assistant or physical therapy aide? Or will you move between different therapists? No matter what, make sure that the plan is clear and that you are comfortable with it.
Are your treatment sessions ACTUALLY ONE ON ONE? Some clinics may claim that your sessions will be "hands on" or "one on one" with a provider, however, you may also want to clarify this, as some clinics may have therapists treating two or three or four patients all at the same time or you may be "double-booked" with another patient at the exact same time. This may work if you are fairly independent in doing some exercise, just make sure you are getting the attention you deserve and aren't just repeating exercises that you are already doing at home successfully.
What are the evaluation and treatment times? Is there some flexibility in treatment scheduling? In other words, will the physical therapist have adequate time to help you get on track to wellness? It is a mistake to think that all of your pain and problems will be resolved on the first visit, however, do ensure that the physical therapist acknowledges your various issues and makes a plan with you to go over goals and expectations. A reasonable time for an evaluation is 60 minutes and a follow up treatment is 30 minutes. In certain cases, you may need more time, especially if you have a unique injury or multiple problems. Again, if it is important to you, ensure that the treatment times quoted to you will be ONE on ONE.
What is the facility like? Every facility is different. Is it clean? Are the employees smiling? No matter what, there should ALWAYS be the option of having privacy during your treatment. Some facilities have more of a social environment, which may both enhance or detract from your treatment. Just ensure it fits your personal style and goals for getting better.
What is the Physical Therapist like? This encompasses many things, from knowledge and special training to commitment within the profession to personality. Every physical therapist practices differently, and things you may want to consider are: education, special training and continued learning, involvement in professional societies, honesty and willingness to suggest alternate providers and treatments if necessary, attention to re-evaluating your condition regularly, and the use of proven treatment methods to help you improve.
In all cases, you should come away from your physical therapy session feeling that you have been attended to, that you understand your condition and progress, and that you have spent your time effectively. Remember that you ALWAYS have a choice when it comes to your body and healthcare.
If you have any questions about this blog or about Physical Therapy, please do not hesitate to contact our Physical Therapist. Happy healthcare hunting!
Shopping cart image from http://www.calhouncountyjournal.com/
Tags:

Category: