Here's to a happy and healthy Running New Year in 2015!
Jan 07, 2015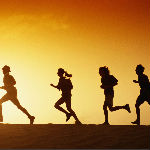 Ladies, how much does your ponytail swing when you run? Men, do you have trouble hearing your music through your headphones through your feet pounding the pavement or treadmill so loudly? These are just a few observations that you may notice that indicate your running form and strength need a tune-up. For example, a "swinging ponytail" could be a sign that your hips are unstable as you land on one foot after another causing abnormal strain and force on the knee leading to knee pain. Alternately, loud pounding as you land may be a sign that your stride is too large, which causes a huge amount of force and impact through your joints, potentially leading to joint and soft tissue damage.
These and other observations are not to be taken lightly, especially if you are taking up running for the first time, picking up running again after all of the holiday commotion, or increasing your mileage to train for a race this year. Personally, I love to run. It has always been an activity that I don't need to sign up or plan for, and all I need are my shoes and open space. Until a few years ago, I never put much thought into the skill involved with running. The skill of running is something often overlooked as more and more people take up running, continue to run as their sport of choice, or train for a race. Unfortunately, being a runner comes with the consequence of sustaining an injury. Injury rates in runners of all skill levels (including advanced, intermediate, and beginner) are as high as 70% PER YEAR. If you have sustained a running injury in the past, you are at an even higher risk-as high as FOUR TIMES more likely to re-injure. With all of the advancement in specialist running gear and running clubs over the past 30 years, the overall incidence of running injuries has NOT CHANGED. This fact indicates that you cannot fix pain or injury just by wearing a brace or the latest pair of shoes….something else is missing.
There is good news: You can have an assessment or running gait analysis performed by a licensed PHYSICAL THERAPIST, who will have the knowledge and skill to analyze your movement as you run and to assess your body's strength, weaknesses, and movement patterns that may put you at risk for a running injury. For example, did you know that if your core and hip muscles are not strong enough or if they lack control, then you may end up with foot or knee pain? If you are already injured, a physical therapist can also evaluate you and help you get back on track towards healthy running and proper running body mechanics. Running is a wonderful, inexpensive, versatile, & enriching way to give your body and mind a multitude of health benefits. Don't let pain or injury get in the way your ultimate running potential and recognize that help is out there! Let's have a fun and healthy running year in 2015!
Author Julie Millar, PT, DPT is a running enthusiast and Physical Therapist at Arvada Sport and Spine Group in Arvada, CO. Call 303.424.9549 to make an appointment.
Image from www.playbuzz.com
Tags:

Category: